The Rubicon at Museo Atlantico by Jason deCaires Taylor — stunning underwater sculptures off the coast of Lanzarote, Spain
Artist Jason deCaires Taylor has a new sculpture installation at Museo Atlantico (Atlantic Museum) off the coast of Lanzarote, Spain. The first underwater art museum in Europe and the Atlantic Ocean covers 50×50 meters of the ocean floor at a depth of 14 meters. Taylor filled the blue water with stunning life-size sculptures, The Rubicon, featuring 35 men, women and children "walking towards a gate, a point of no return or a portal to another world."  This permanent and eco-friendly installation can be enjoyed by snorkelers and divers of all skill levels. So if you are in the area and love to explore the amazing underwater museum, please stop by. It will be opened to the public this 25th of February 2016.
But before you plunge in, please scroll down so you get an idea what to expect.
You can also check out his previous installation featured here.
Enjoy!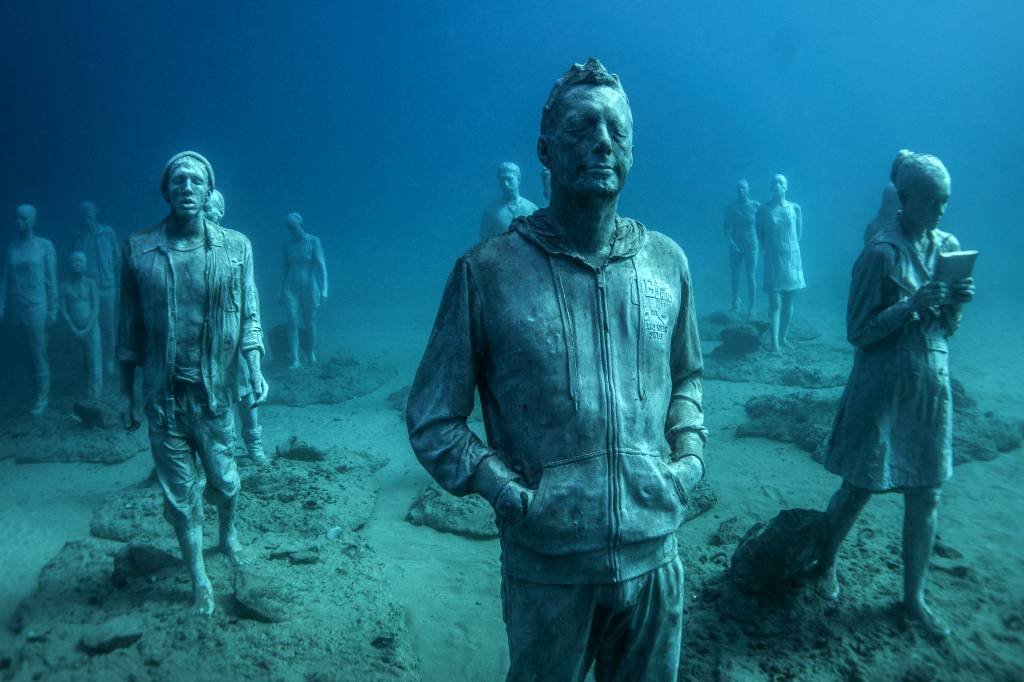 Artist Bio:
Born in 1974 to an English father and Guyanese mother, Taylor grew up in Europe and Asia, where he spent much of his early childhood exploring the coral reefs of Malaysia. Educated in the South East of England, Taylor graduated from the London Institute of Arts in 1998 with a BA Honours in Sculpture and went on to become a fully qualified diving instructor and underwater naturalist. With over 20 years diving experience under his belt, Taylor is also an award winning underwater photographer, famous for his dramatic images, which capture the metamorphosing effects of the ocean on his evolving sculptures.
All images courtesy of Jason deCaires Taylor, and are published with permission.
 For more info, please visit his:  Website  |  Facebook  |  Instagram
The project drawing on the dialogue between art and nature is designed on a conservational level to create a large scale artificial reef to aggregate local fish species and increase marine biomass whilst, on the other hand, to raise awareness to current threats facing the worlds oceans. The main installation, The Rubicon features a group of 35 people walking towards a gate, a point of no return or a portal to another world.

~ Jason deCaires Taylor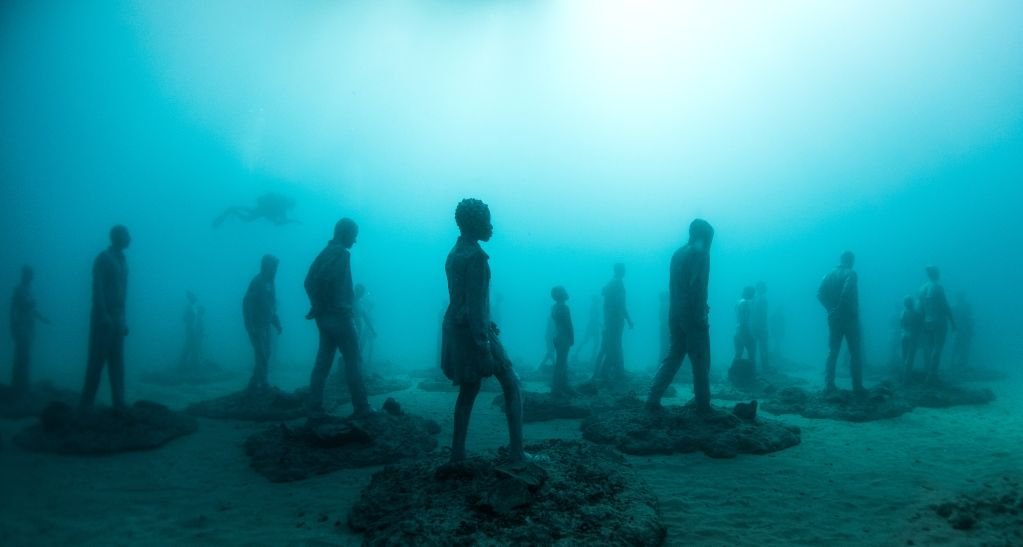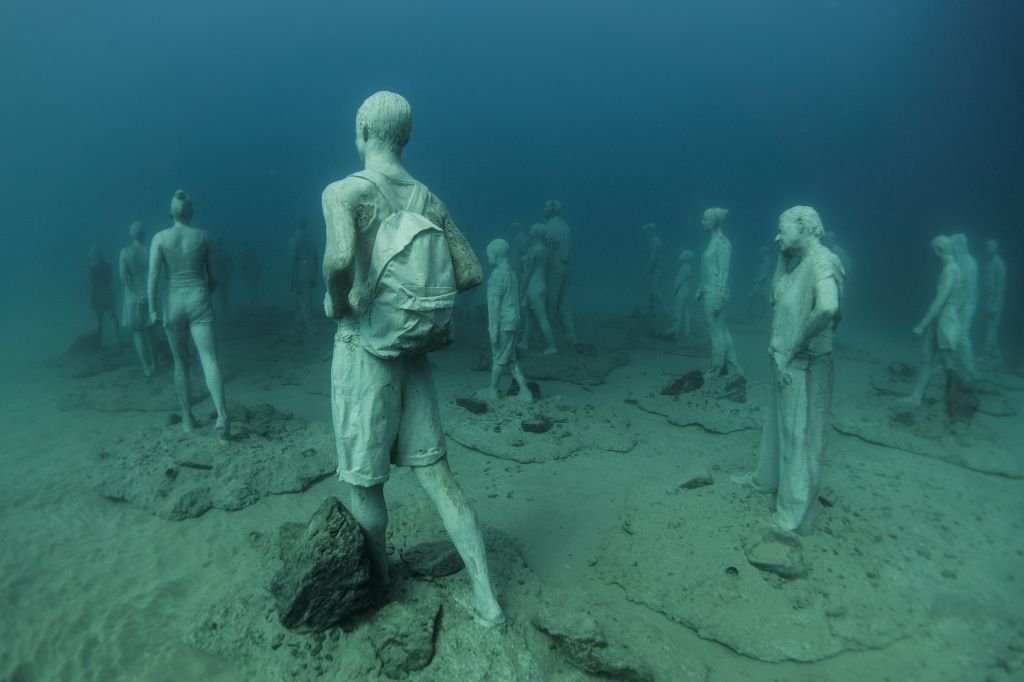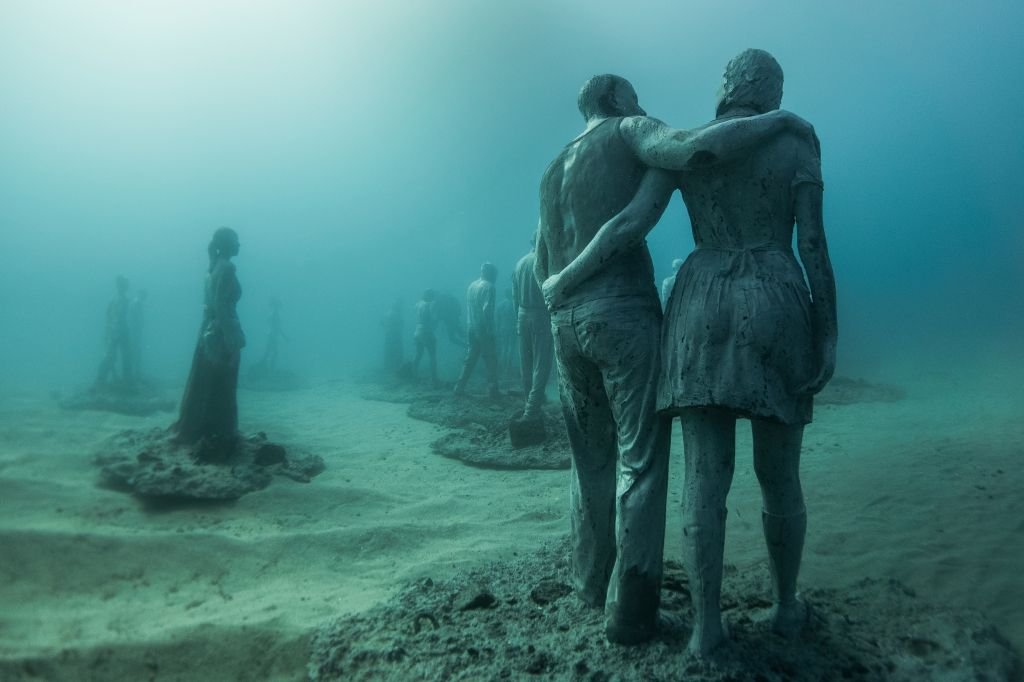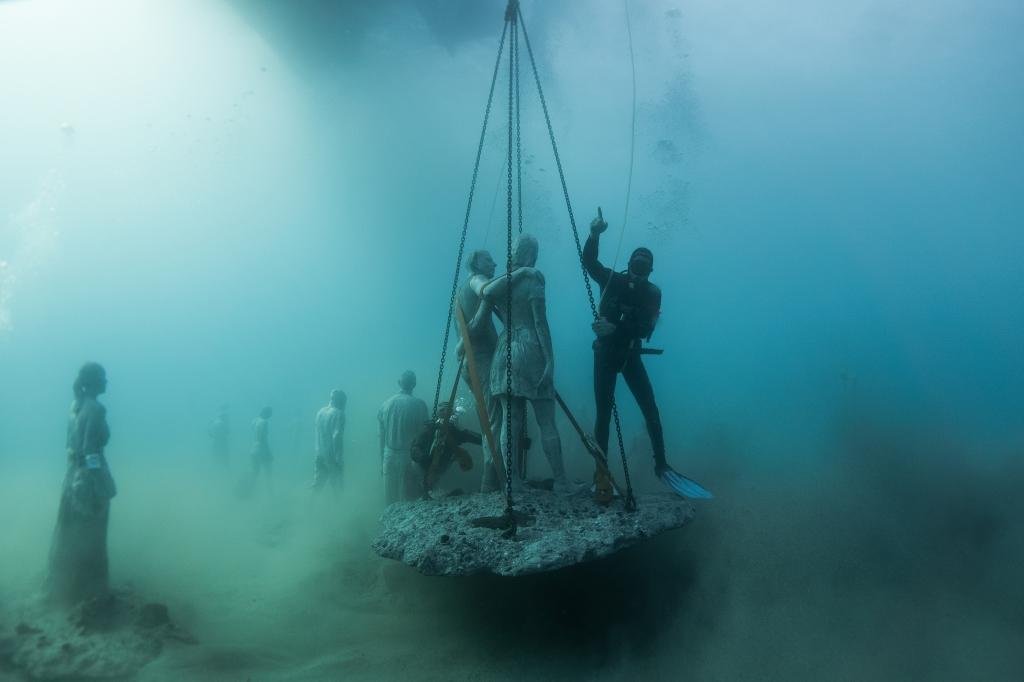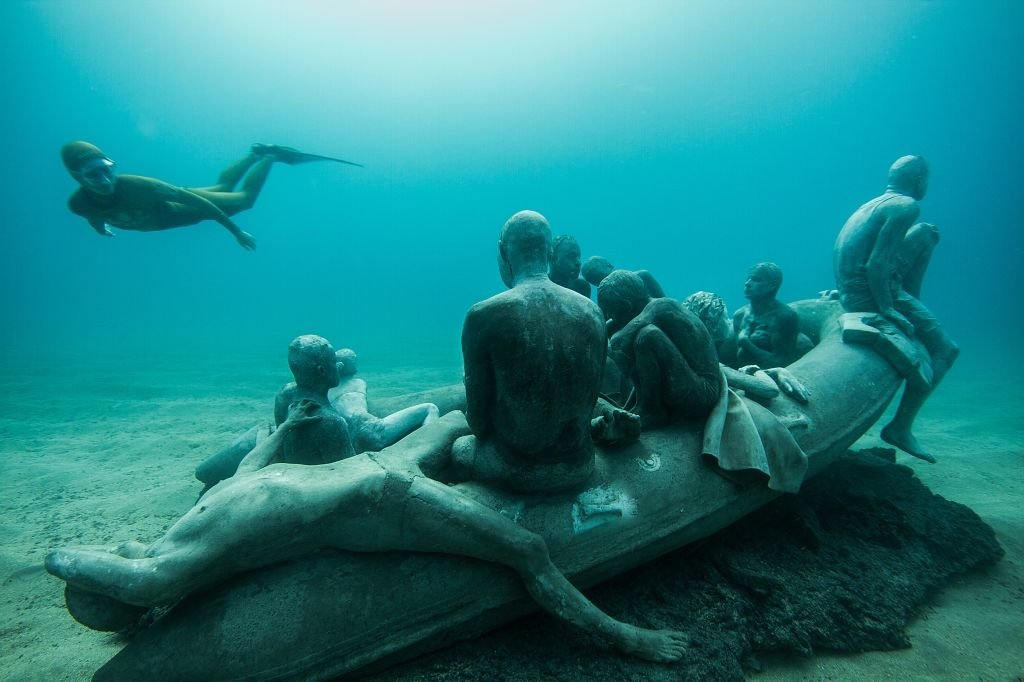 The Raft of Lampedusa

Raft of Lampedusa: a harrowing depiction of the ongoing humanitarian crisis, referencing French Romantic painter Théodore Géricault's work: The Raft of the Medusa. Drawing parallels between the abandonment suffered by sailors in his shipwreck scene and the current refugee crisis, the work is not intended as a tribute or memorial to the many lives lost but as a stark reminder of the collective responsibility of our now global community.

~ Jason deCaires Taylor