Beaubourg and Universal Mind : The amazing sculptures of Nikolay Polissky
Russian artist Nikolay Polissky has created two massive sculptures called Beaubourg (2013) and Universal Mind (2012). Most of his sculptures, like these two, provide commentary on the affinity of nature, culture, myth and science. This is what makes him a creative genius.
Polissky uses materials from the natural environment and employs techniques from traditional cultures, like weaving. The result has always been an adventure into a world of myth or science, or whatever you can imagine.  🙂

1.  The Beaubourg

It featured a huge sculpture with birch branches woven onto a 72 feet high metal frame, complete with stair in the middle and observation deck at the top.   Polissky hasn't really explained the unusual shape and form of the sculpture.  Instead, he wanted the art-viewing public to come up with whatever they can imagine.
When asked by Calvert Journal, this is what he had to say:
"Think up a story yourself. The most important thing is the myth. Reality alone means nothing."
All images courtesy of Nikolay Polissky, and are published with permisssion
 To see more of his work, please visit his website: polissky.ru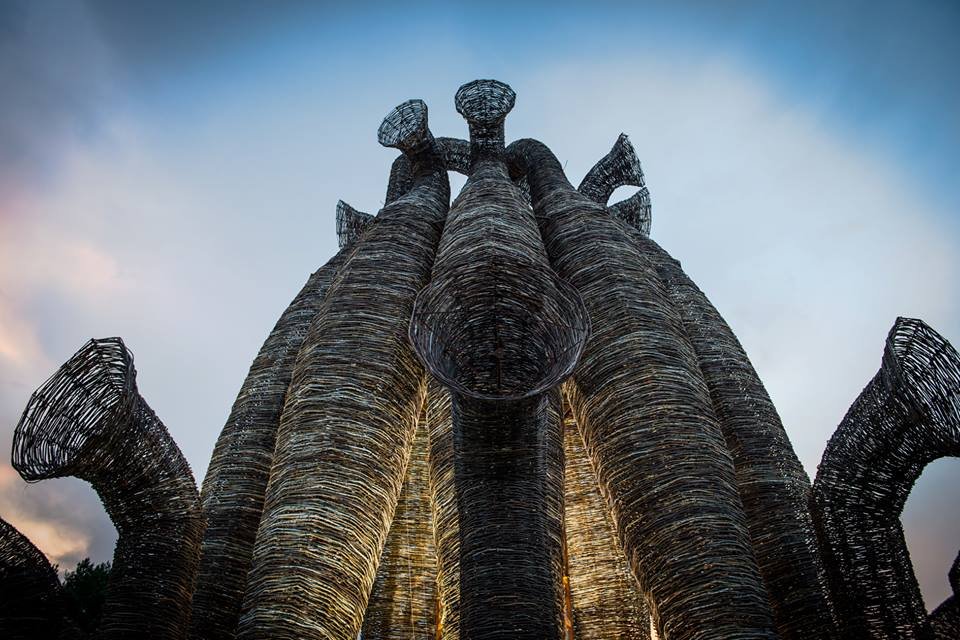 2.  Universal Mind

The Universal Mind was part of Polissky's scientific sculpture series, along with 'Large Hadron Collider' (2009).  It's a wooden sculpture fastened together by nuts and  bolts to create a sort of large mechanical brain.  At night it becomes alive as the billions of neurons in pulsating bright lights race to nowhere.  🙂