Beautiful, Whimsical Paintings by Eric Roux-Fontaine — colorful forest dreamscape coupled with barren lunarscape
Welcome to the fantasy world of French artist Eric Roux-Fontaine  — a magical place with lush, colorful forest dreamscape as depicted in his beautiful, whimsical paintings. In the midst of this fascinating forest, you'll be surprised to see a pool, a glass house and even a Ferris wheel, not to mention a flying man. However, on the other side of his wonderful mind, I mean world, you'll be transported to a dark, desolate and barren lunarscape. But don't worry, you'll have fun. A flying boat, plenty of natural swimming pools and a piano will do the trick.   🙂
Please scroll down and enjoy this very creative and imaginative artwork!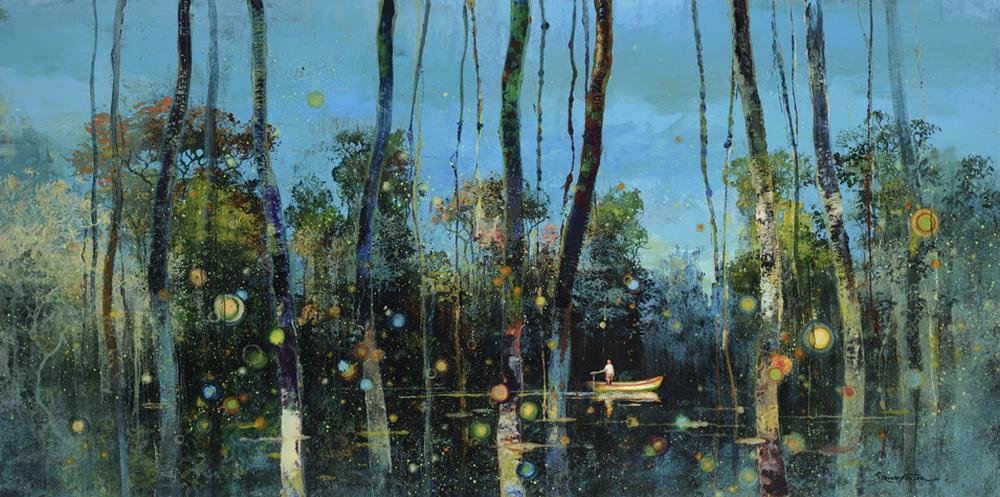 At no time am I trying to depict a place in a literal way, because I think we paint with our culture as much as with our nature! And the memory, or the feeling we keep of a place or a scene, is sometimes more interesting than the "raw" reality. People depicted in paintings are more like actors. They appear in a scene then, it is up to everyone to put together the movie! I think that we do not paint a man, but the interpretation of this man. One shouldn't try to control the execution too much because mistakes often end up as new solutions that one couldn't foresee in the beginning!

~ Eric Roux-Fontaine
 All images courtesy of Eric Roux-Fontaine, and are published with permission.
For more info, please visit his:   Website