Amazingly Dark and Surreal Architecture by Jim Kazanjian. A Hollywood style horror scene!
Artist Jim Kazanjian of Portland, Oregon scoured the cyberspace and sifted through thousands of photographs. He then diligently selected the best images to create a "hyper-collage" of digitally enhanced photographs. The result was a stunning series of surreal architecture and landscapes.
What makes his artwork incredibly amazing was his vivid imagination of beautiful yet — dark, desolate and decayed scenery.  Insanely creative!
Why don't you scroll down and explore the fictional horror scene "Hollywood-style" of Jim Kazanjian.  🙂
All images courtesy of Jim Kazanjian:  Website | Facebook 
You can purchase prints at Jennifer Kostuik Gallery
(published with permission)
My images are digitally manipulated composites built from photographs I find online. The technique I use could be considered "hyper-collage". I cobble together pieces from photos I find interesting and feed them into Photoshop. Through a palimpsest-like layering process of adding and subtracting, I gradually blend the various parts together. I am basically manipulating and assembling a disparate array of multiple photographic elements (sometimes more than 50) to produce a single homogenized image. I do not use a camera at any stage in the process. ~ Jim Kazanjian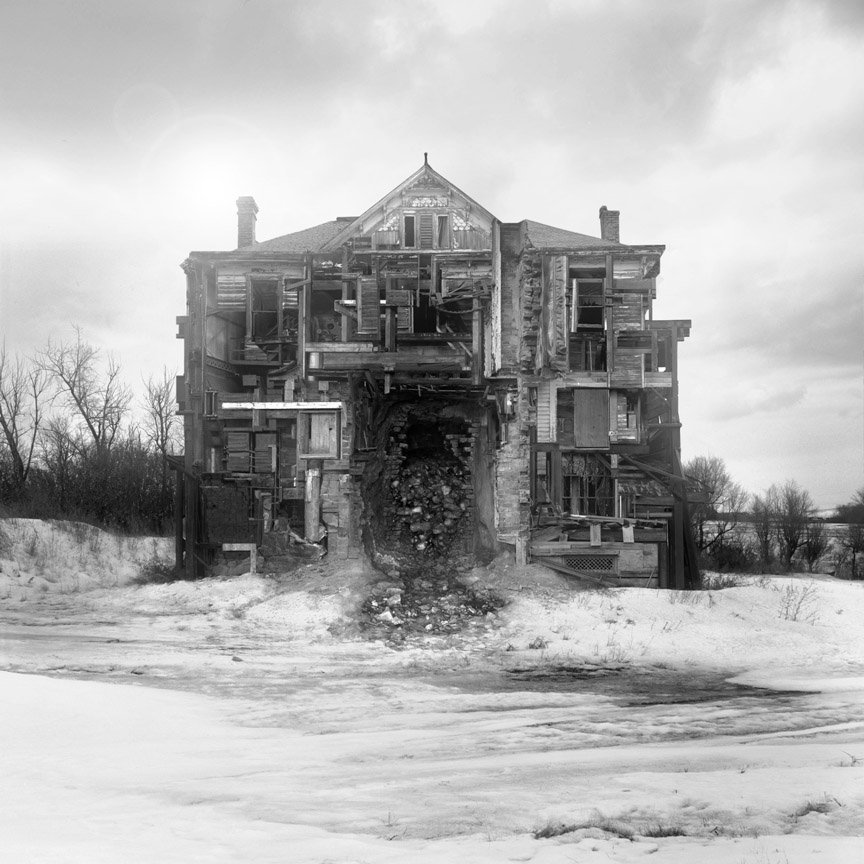 I've chosen photography as a medium because of the cultural misunderstanding that it has a sort of built-in objectivity. This allows me to set up a visual tension within the work, to make it resonate and lure the viewer further inside. My current series is inspired by the classic horror literature of H.P. Lovecraft, Algernon Blackwood and similar authors. I am intrigued with the narrative archetypes these writers utilize to transform the commonplace into something sinister and foreboding. In my work, I prefer to use these devices as a means to generate entry points for the viewer. I'm interested in occupying a space where the mundane intersects the strange, and the familiar becomes alien. In a sense, I am attempting to render the sublime. ~ Jim Kazanjian