Richard Dunn, stuck in Las Vegas Airport, made a video singing "All By Myself" by Celine Dion.
What do you do if you get stuck overnight in the airport all alone?  Get bored and sleep?
Nope, not Richard Dunn!  He filled up the empty and boring airport with very amusing moments — singing the Eric Carmen's classic ballad "All By Myself" by Celine Dion version.  And he entertained no one but himself.  🙂
Hmmmm…. not really…. He actually made an epic video of the wonderful night with his iPhone and uploaded it to the internet.  Then it got viral in no time… and he ended up entertaining millions of people.  Cool!!!
Okay, now it's time for you to get entertained.
Watch and enjoy the video by Richard Dunn:   (then, scroll down for more)
All by myself from Richard Dunn on Vimeo.
The amazing thing is, he took the video with all those nice angles and tracking shots by himself, alone. How he did it?  This is what he had to say:
"I had a person behind a ticket counter give me a roll of luggage tape before she left. I then used a wheel chair that had a tall pole on the back of it and taped my iPhone to that. Then I would put it on the moving walkway for a dolly shot. I also used the extended handle on my computer bag and taped the iPhone to my handle. I would tuck different stuff under the bag to get the right angle. For the escalator shot I had to sprint up the steps after I got my shot so the computer bag didn't hit the top and fall back down. Quite fun!"
If you get stuck anywhere… obviously, you need HELP… 🙂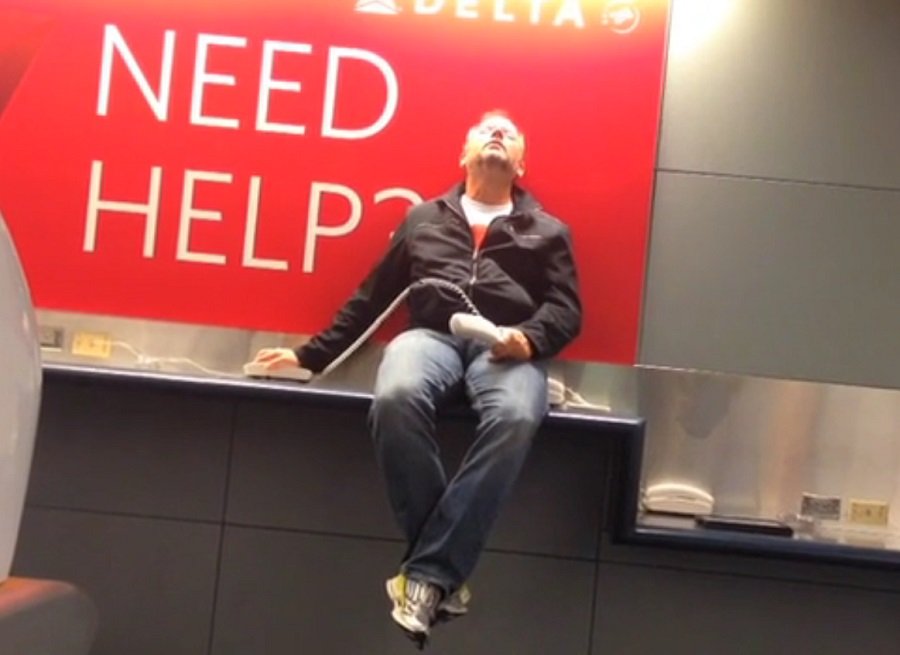 and if you're a man… you probably need a…  🙂