Marwan – 4 year old Syrian boy crossing the border alone
Amid devastating chaos in a war-torn Syria, a 4-year old boy named Marwan was making a long and difficult journey of his life — alone.
The little boy was one of the thousands refugees crossing the border from Syria to Jordan. But the boy appeared in a series of photographs to be walking alone by himself.
However, the United Nations High Commissioner for Refugees (UNHCR) explained that the boy was only temporarily separated from his family. And he was reunited 10 minutes later.
But this explanation was too late to stop the circulation of the picture over social media. The powerful image of Marwan walking alone in perilous scorching desert has become the most shared picture on Sunday.
Andrew Harper, the agency's representative who took and posted the original image, explained what happened in a series of tweets.
He wrote:
"Just to let you know that Marwan was safely reunited with his mother soon after being carried across the Jordan border.

"Marwan's story is that he was temporarily separated from his family in the chaos of the mass refugees' crossing into Jordan.

"When refugees cross, which happens every day, it is the most vulnerable that UNHCR staff Border Guards look out to help.

"Unfortunately in every mass refugee crossing it is the elderly, sick, pregnant and often children that fall behind the main groups."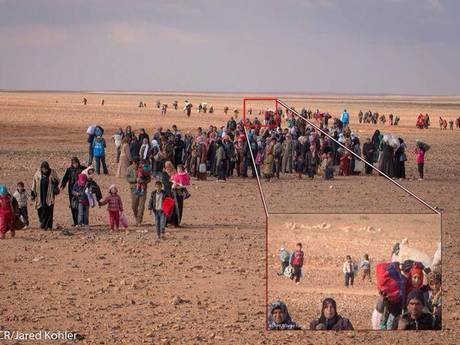 Reference: The Independent