Police Officer Brian Smith of Omaha Receives Dozens of Valentines Cards
Sgt. Brian Smith of Omaha Police Department received stack of Valentines cards from Girls Scouts, school children and day cares in Omaha, and even from Texas and Nevada. This has all started when a little story was posted on the Department's Facebook page, February 5.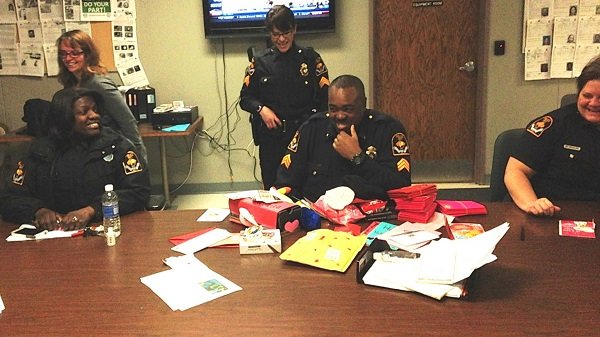 Here it goes as posted on Facebook:
This was heard at the Northwest Precinct when Captain Shayna Ray brought up the subject of Valentine Day cards, "When I was in school I never got Valentine Day cards" said Sgt. Brian Smith. Sgt. Smith has been on the police force for over 20 years and he works hard to make our community safe.

If you feel so inclined we are asking for people to send Sgt. Smith a much belated Valentine's Day. The address to send the card is Omaha Police Northwest Precinct 10245 Wiesman Drive Omaha, NE 68134. We are hoping to surprise him with a box full of valentine cards!
Then the unexpected happened. Dozens of Valentines cards poured in.
Sgt. Smith was surprised and overwhelmed. Even the entire precinct was equally surprised to the kindness and support from the people.
Northwest Precinct Capt. Ray said they were moved by the thoughtfulness of strangers.
"It's such a cool, overwhelming response," she said.
Sgt Smith finally experienced the feeling of "childhood wonderment" during Valentine's day.