Roberto Ferri's Surreal & Hyper-realistic Baroque Paintings — depicting good & evil narratives in sensual elegance
Roberto Ferri, an artist based-in Italy, offers you a glimpse of Baroque fine art paintings, incredibly crafted in surreal and hyper-realistic compositions. Inspired by the old masters, particularly Caravaggio, Ferri creates a series of stunning artworks in pure sensual elegance cloaked with emotional tensions and allegorical symbolism. The featured pieces below seem to depict the narratives of good & evil in gorgeous, poetic art paintings. Please scroll down… and Enjoy!
"Each of my paintings carries a message containing symbols and allegories whose interpretation depends on the viewers: the message travels in two opposite directions concerning both intellectual tension and perception."
~  Roberto Ferri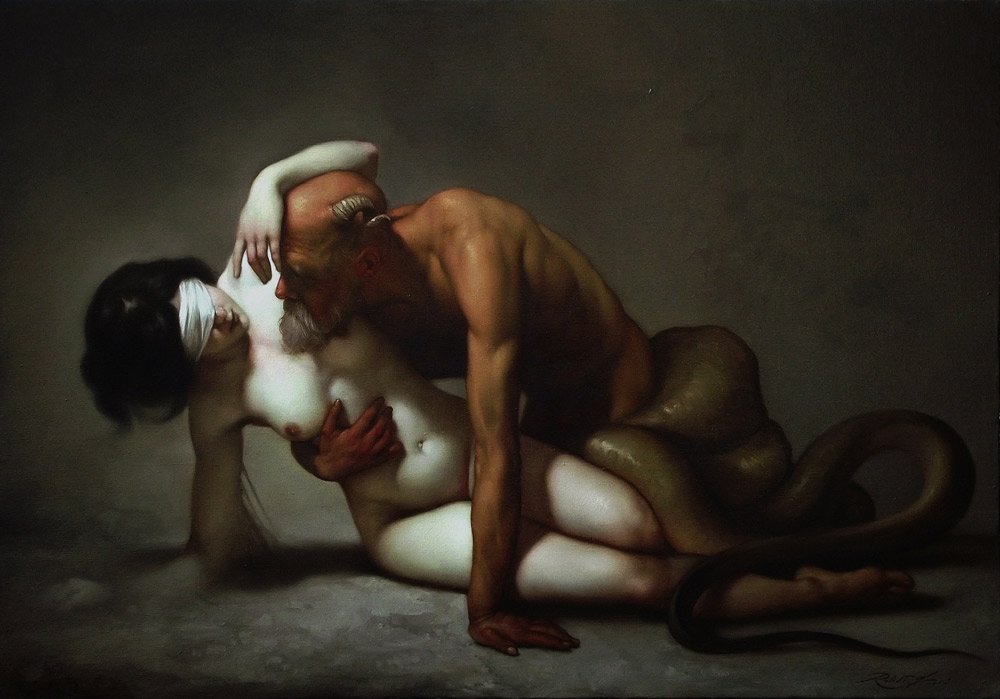 Artist Biography (Wikipedia):
Roberto Ferri (born 1978) is an Italian artist and painter from Taranto, Italy, who is deeply inspired by Baroque painters (Caravaggio in particular) and other old masters of Romanticism, the Academy, and Symbolism.

In 1996, he graduated from the Liceo Artistico Lisippo Taranto, a local art school in his hometown. He began to study painting on his own and moved to Rome in 1999, to increase research on ancient painting, beginning at the end of the 16th century, in particular. In 2006, he graduated with honors from the Academy of Fine Arts in Rome.
All images courtesy of Roberto Ferri, and are published with permission.
To see more of his work, please visit his:  Website  |  Facebook  |  Blog