Artist Sara Golish created a new series 'Sundust' — 10 portraits of Sun Goddesses.
Sara Golish, a Toronto-based visual artist, has created a new series titled Sundust — a salute to the fertility of the Sun Goddess.  It's a series of ten stunning portraits of women from Africa.  As she puts it, "The continent most touched by the sun's embrace."
Sara used charcoal, conté and gold ink on toned paper. The portraits are truly amazing!
Please scroll down for the photos.
To see more of her work, please visit her:  Website |  Facebook |  Pinterest  | Twitter
All images courtesy of Sara Golish, and are published with permission.
Sun Goddess Anyanwu –  "Eye of the Sun" or "The Light" is an Igbo deity from Nigeria that is believed to dwell in the sun.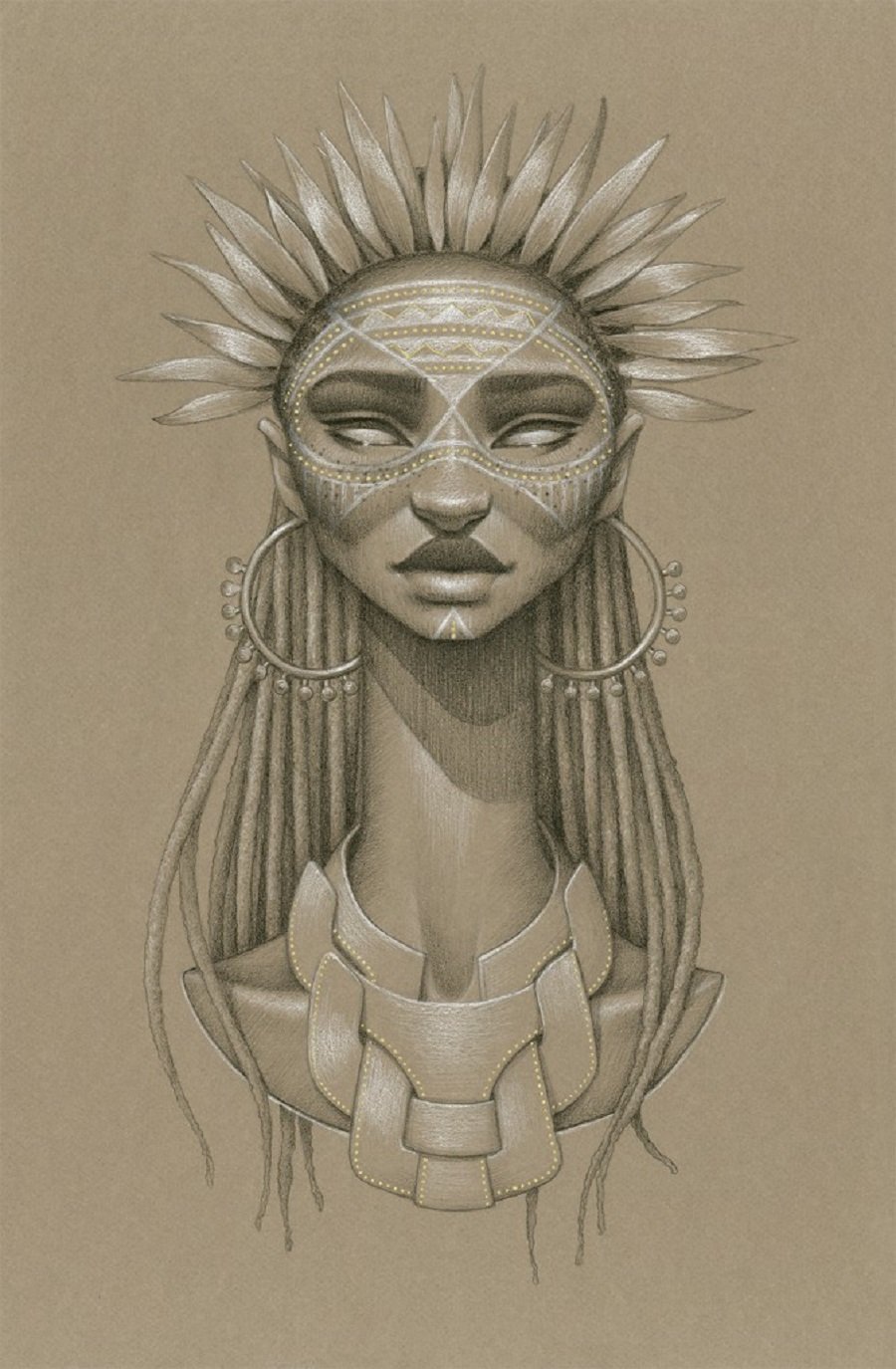 Sun Goddess Asis – Derived from the word Asista (meaning the sun), is the sun goddess of the Kalenjin people in western Kenya.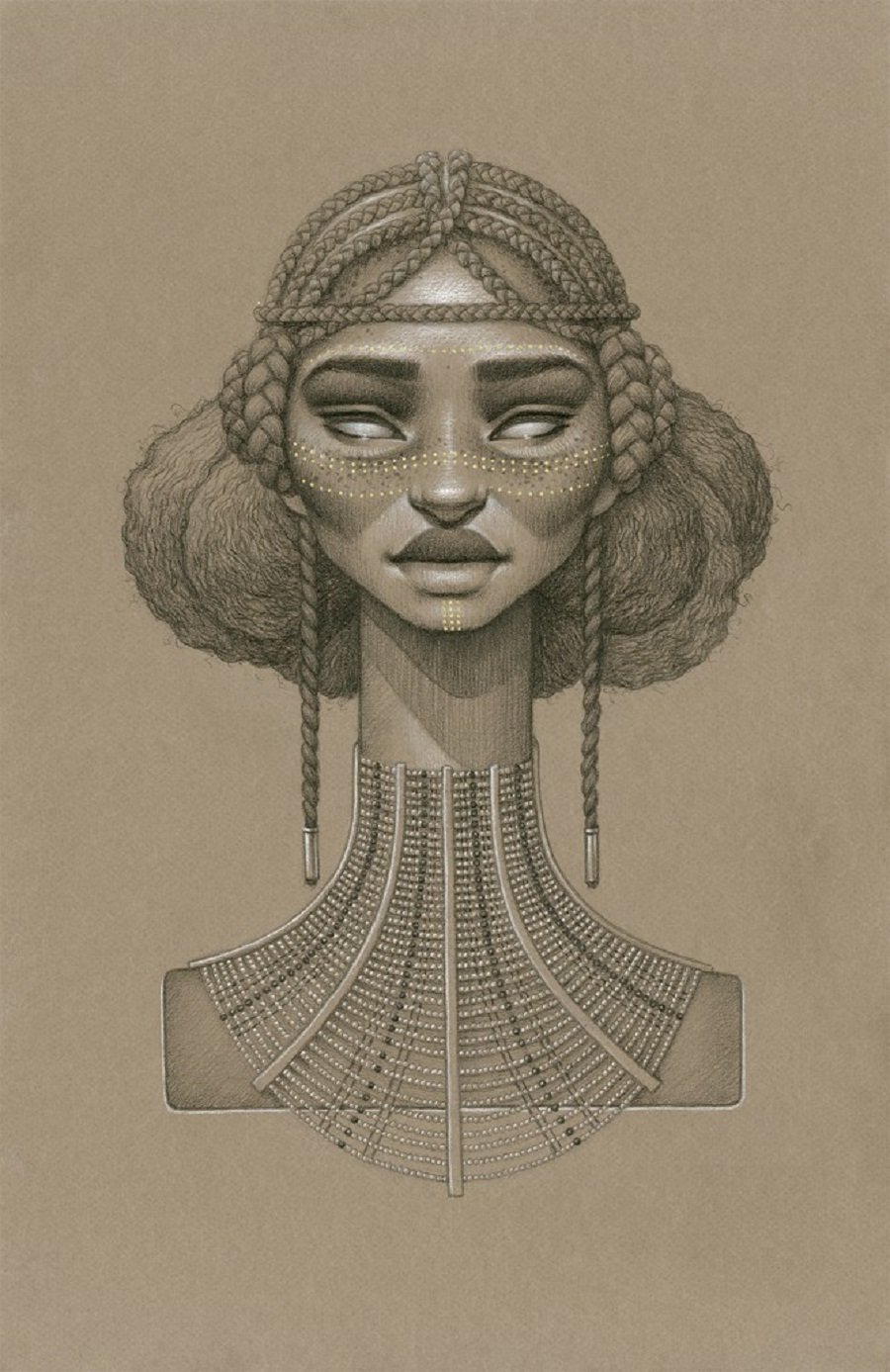 Sun Goddess Orun – "Sun" in Yoruba from the people in southwestern Nigeria and southern Benin of west Africa.
Sun Goddess Nyambi – The sky goddess who inhabits the sun for the Barotse [or Lozi] people from western Zambia.
Sun Goddess Nomalanga – The "Sun" or "Mother of Sunshine", hails from the Ndebele tribe of Zimbabwe in southern Africa.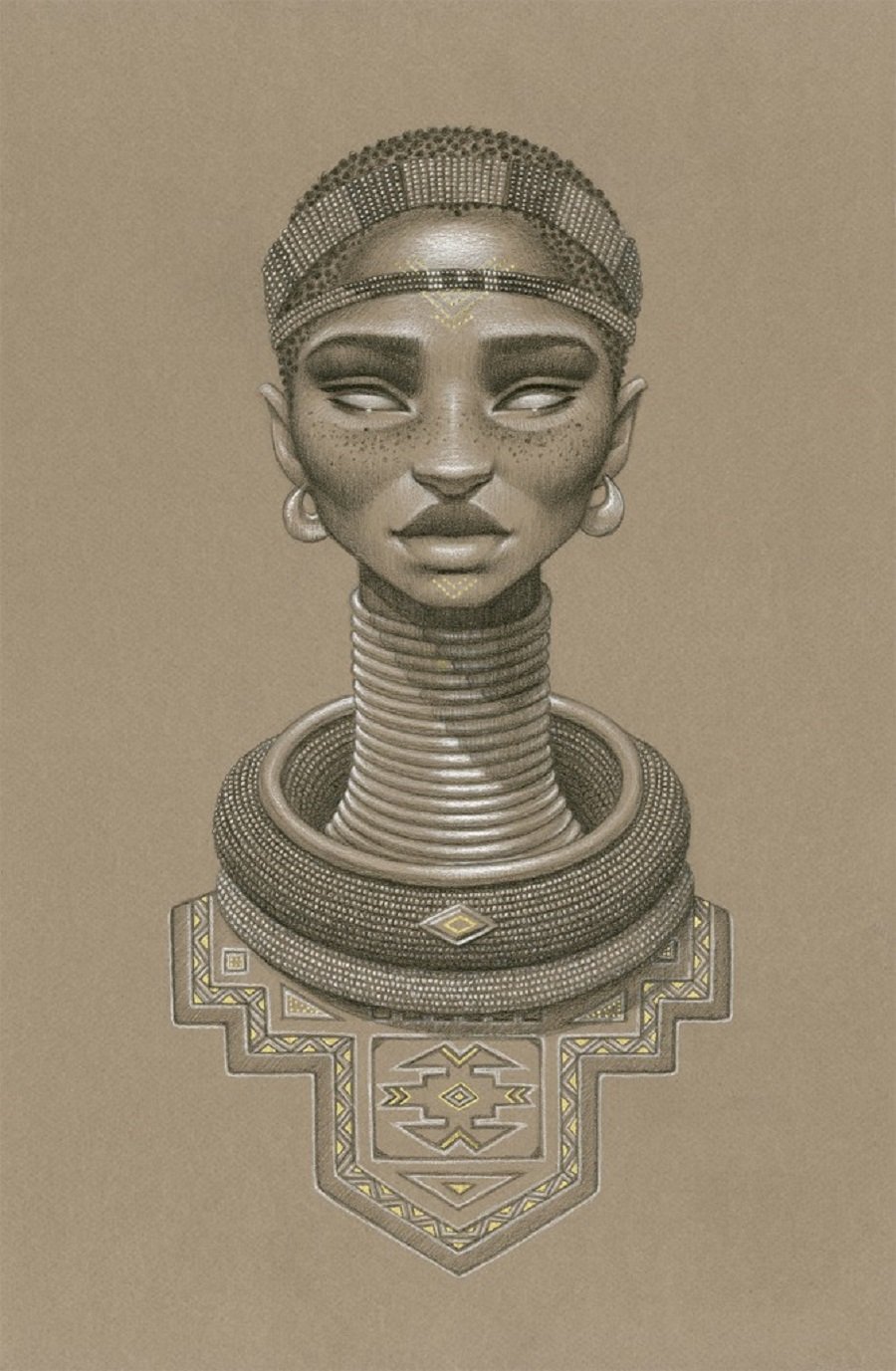 Sun Goddess Nefertum – "Goddess of the Sunrise". As a solar deity from Egyptian Mythology.
Sun Goddess Mukuru – The divinity of the Himba nomadic tribe in northern Namibia.
 Sun Goddess Khwezi – "Bright morning star" of the Zulu people of South Africa.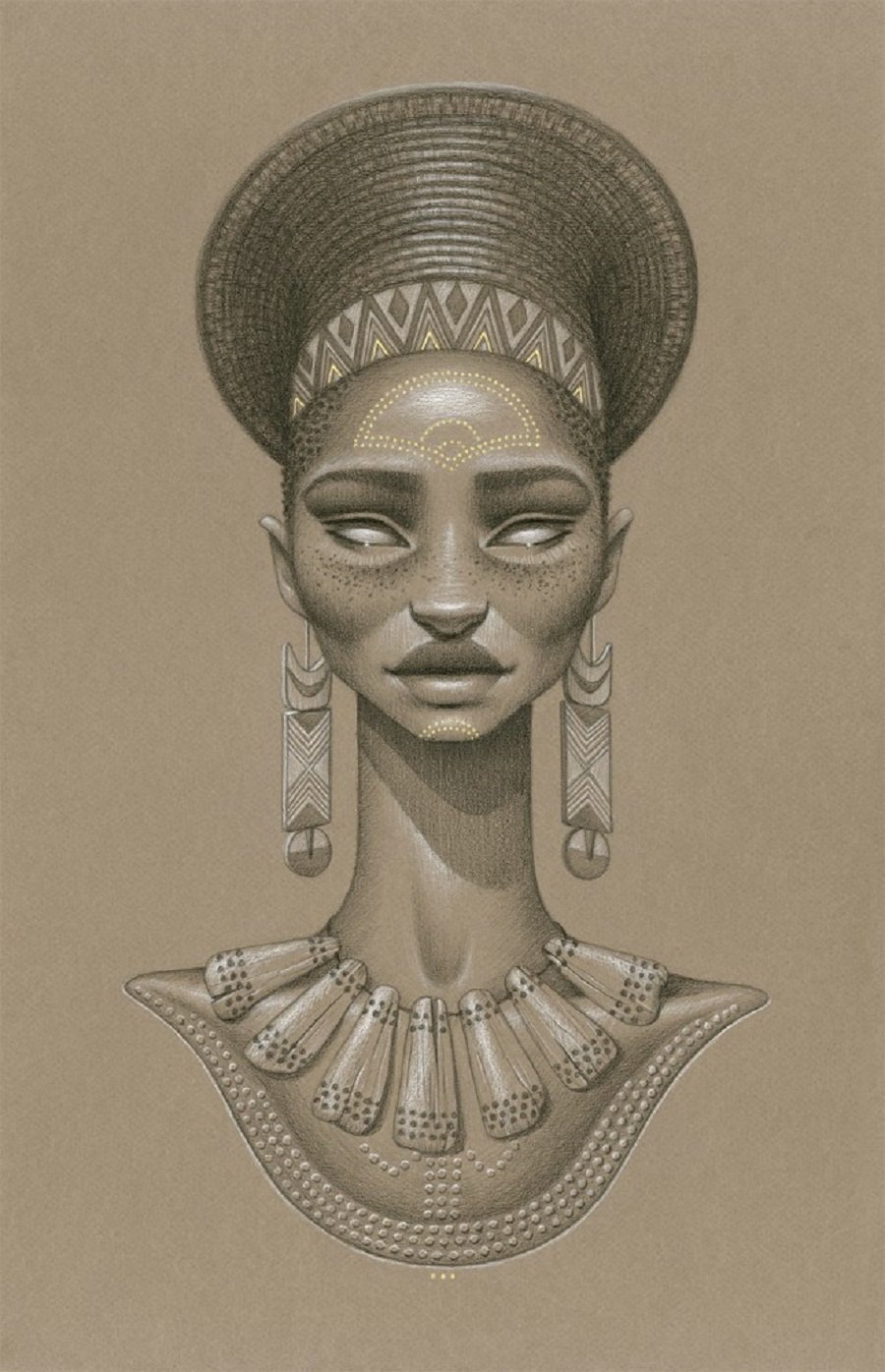 Sun Goddess Taitu – "The Sun". This sun goddess ensures the all around development of life as she reigns over Ethiopian terrain.
Sun Goddess Tsehai – "The Sun/Sunshine" goddess of the Karo people in the Omo Valley, Ethiopia.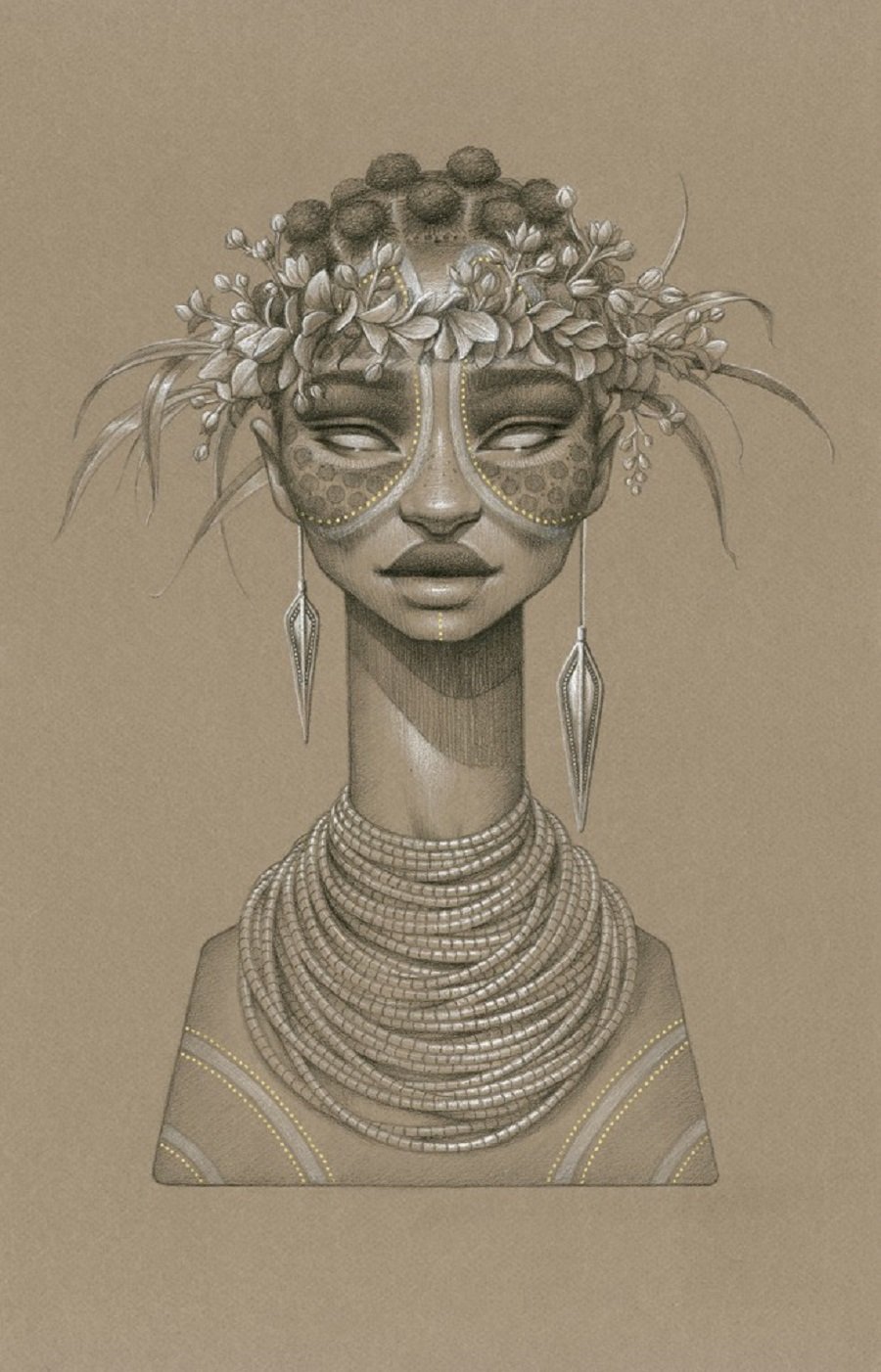 In her blog, Sara writes:
"… new series SUNDUST, a salute to the fertility of the sun goddess through ten portraits of women from the continent most touched by the sun's embrace – Africa. Compelled by the lack of female personified sun deities, Golish aims to revise and re-examine the male dominated sun god through the recasting of the past in order to re-envision the future. Released on the eve of summer solstice, the ladies of SUNDUST represent and celebrate all that is light, powerful, and life-giving."