Aung San Suu Kyi Receives Honorary Doctorate and Vaclav Havel Prize
Aung San Suu Kyi received an honorary doctorate from the University of San Francisco on Saturday, and a day before, she was awarded with Vaclav Havel Prize for Creative Dissent at San Francisco Freedom.
In her doctorate acceptance speech, Aung San Suu Kyi, the Burmese opposition leader and Nobel Peace Prize laureate, addressed the 5000 crowd both in English and Burmese.  San Francisco has the largest Burmese community in the US.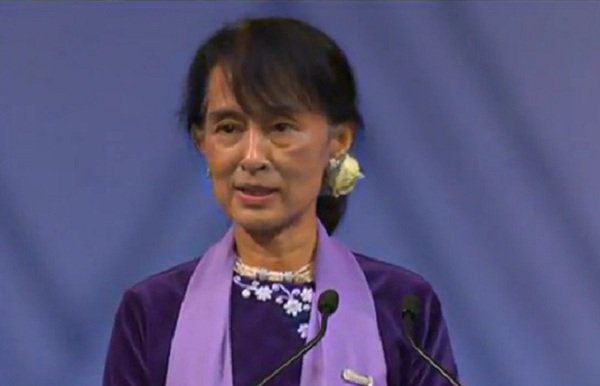 "Our country is on the verge of a new path," she told the crowd.  "We are just about to start out, but we are not along the way yet.  And because we're just at the beginning, this is a delicate and difficult time." (reported by AP/ABC News)
Vaclav Havel Prize
Last Friday, she received the Vaclav Havel Prize and was joined by other prominent advocates for human rights freedom —- Manal al-Sharif who pioneered the Saudi's women's right; Marina Nemat of Iran, author and former prisoner of conscience; Kasha Jacqueline, the Ugandan gay activist who fights for LGBT rights; Yang Jianli, the Chinese pro-democracy dissident and scholar; and Bolat Atabayev of Kazakhstan, a theater director and human rights defender.
Garry Kasparov, a well known World Chess Champion and human rights advocate in Russia who was supposed to be in the event, conveyed his message via video conference, complimenting Aung San Suu Kyi of her work.  He said, "She inspires us all."
In her speech titled "The Long Road to Freedom," she did not elaborate nor condemn the continuous human right violations in her homeland.  However she acknowledged, "There are still many human rights violations going on in my country as there are still many conflicts."
For now this would suffice as Myanmar is in the process of trekking "The Long Road."  Aung San Suu Kyi has to be very careful not to stir up the mud of the past in this delicate time of change.  As always balance is the key.
Source:
AP-ABCnews
AlaskaDispatch