Regent China Inn – The Best Cheap Restaurant In Los Angeles Chinatown
Regent China Inn is probably the best cheap restaurant in the heart of Los Angeles Chinatown.  It is located at the corner of Alameda and Ord, right across the famous Philippe French Dipped Sandwiches.
Although the food is cheap, the restaurant's ambiance and food quality are not cheap at all.  Of course, it's not a high-end, fancy restaurant.  But as long as it's clean, presentable and the price is right, it is the right place.  How can you beat the $4.95 a menu?  Whether you pick vegetables, meat or seafood— it doesn't matter.  They are all affordable and super delicious.  That's why we frequent this place on weekends.
Our Favorite Menu
We were there last week.  And as usual our kids love those enticing, crispy Fried Pork Chops and Seafood Chow Mein.  The pork chops, sprinkled with spicy salt, were crispy on the outside yet velvety soft in the inside.  Even the chow mein was crispy, though lathered with heavenly taste sticky sauce.  It's topped with seafood varieties and a couple of bok choy.  And when Mr. Porky and Mr. Chowy showed up on the table, the kids frantically mixed them together with rice.  Then Bam!!! Delicioso!!!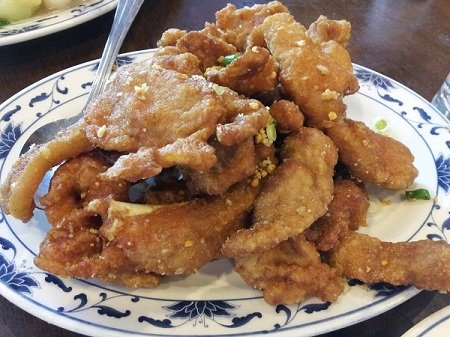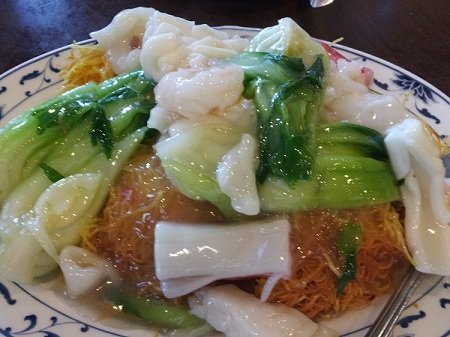 My wife and I opted for couple more dishes, the Fried Shrimps with Spicy Salt and Pan Fry String Beans.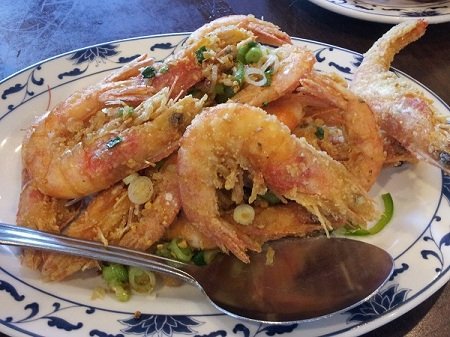 We simply couldn't resist the fried shrimps especially when dipped in the red spicy sauce.  That goes to our eldest son, too, who eats not only the shrimp's orange-white meat but its thorny head and pesky scale-like skin.  But, as a bit healthy conscious individuals, we needed something to balance out these highly-charged-cholesterol shrimps.
Aha!  The String Beans — green and fiber loaded vegetables — to the rescue!  So we gobbled up not only the shrimps but the pork chops as well right in front of hideous guilt, bullying us around.  Thanks, String Beans!
After less than an hour, the chaos settled down.  Broken glasses, spilled soft drinks, scattered plates, and bended spoons and forks were all over the place along with upside down tables and chairs.
Okay, hold on now.  Nothing really happened but gastronomic satisfaction of five individuals.  Yes, nothing, except for poor plates.  They were totally scraped out.
Then, it's tea time.
Finally, the bill and me, alone!