Visiting Puerto Princesa Underground River, Palawan Philippines
Our family visited Puerto Princesa Underground River last July 2012.  The mission was to have a taste of exotic experience from one of the newly proclaimed — New 7 Wonders of Nature.  And it's right in the backyard of the Philippines, the land of my birth.  So why not visit? But the question is, was it worth it?
Hmmmm… Let's see.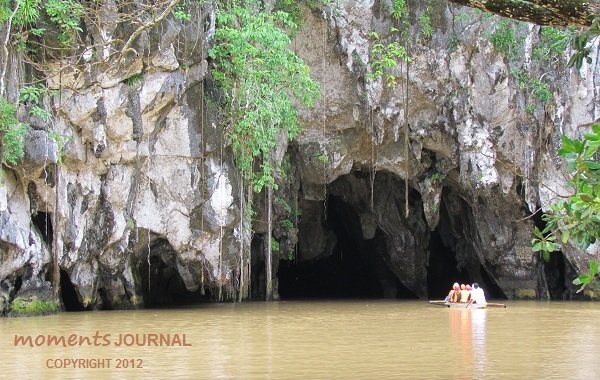 We took a grueling 16-hour flight from Los Angeles to Manila and a connecting flight over local airline for Palawan. Then the next day, while wrestling with jet lag, we were thrown into a van with dare-devil driver who mercilessly rearranged our internal organs and compelled us to pray.  Yep, we zigzagged through narrow winding road with the speed of light as we raced with nobody.  And for what? Mud colored river?
Well, I have to concede, it's not just a river. It's the longest "Underground River" in Asia. On top of that, it has amazingly huge stalactites and stalagmites developed over million of years. Indeed, it's worth it to visit.
When we entered the pitch dark cave, on board a sailboat with spotlight, we were seemingly transported to an inexplicable dimension. The atmosphere was eerily quiet. And the feeling of apprehension was high considering we were on the water inside a massive dark cave. This was the perfect time to silently prepare your divine lifeline.
It was a kind of mystical adventure something you don't encounter everyday. The stunning formations of stalactites and stalagmites made our jaws dropped as we uttered the "oohs and ahhs." But our funny guide, the boatman, dampened the mysticalness of the adventure with some jokes and funny-broken yet understandable English. He had no choice but to juggle his meager English words because 7 out of 10 in our group do not understand Filipino. Knowing his dilemma, he murmured to himself, "I'm going to have a nosebleed."
At one point the boatman pointed upward and said, "Look up people. There are so many bats hanging on the ceiling." So we all looked up.
Then he added, "But close your mouth! You don't want to swallow bat droppings."
We all laughed and hastily covered our mouth. Yeah, who wants bat droppings!
Kidding aside, he's a good guide. We were mesmerized with his concoction of unique description of some stalactites and stalagmites. He told us that some of the formations were resemblance to various religious images. He pointed out one cluster of stalagmites resembling the figure of Holy Family. There was also a "Virgin Mary" look-a-like, and a dome that our guide proudly says, "That's a cathedral." There were more formations which he labeled accordingly, but I couldn't remember.
Actually, it's not hard to find familiar figures. You simply look at the form and amplified your imagination. It's like looking at the clouds and conjure up whatever you can imagine.
Why don't you look at the photo below. Perhaps your imagination could surpass our local funny guide. If you find my Dino pet, T-Rex, you can be our Guide. 🙂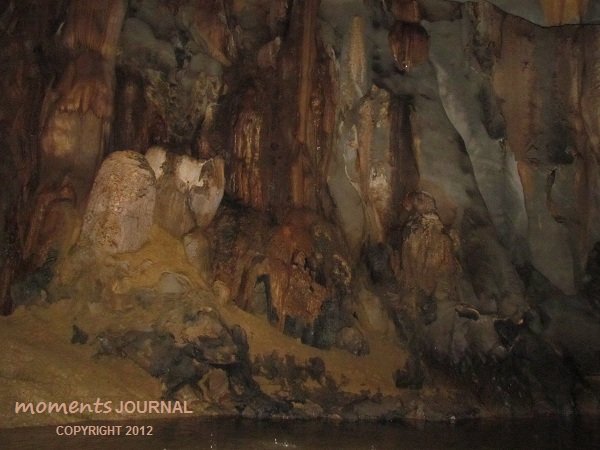 I know it's not easy. I suggest, you go there and get help from local guide to find T-Rex.  Or better yet, enjoy the ride as you experience the mystical adventure of a lifetime.