Marshmallow Cannon at White House Science Fair
President Obama helped Joey Hudy fired his invented Air Cannon across the State Dining Room in the White House.
Hudy, the 14-year old scientist, showed his invention to Obama during the White House Science Fair.  The president was intrigued and asked the boy if he can demonstrate it, which the boy gladly complied.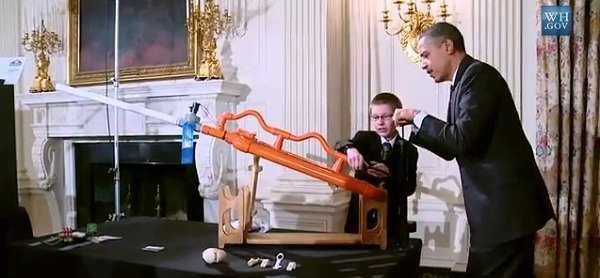 Did I say a cannon in the White House?  Yes a cannon with a range of 175 feet!!!  But don't worry folks.  It's only a pressurized air cannon with a soft and edible ammo — a marshmallow.  Yummy!
After Joey Hudy and President Obama pumped air at 30 psi, the button was pressed… and viola!  KABOOM!!!
A marshmallow-weaponized-cannon has been launched and tested, with the blessing of the President of the United States.  And his comment?  Outstanding!!!
If you wish to see the youtube video, here's the link:   Marshmallow Air Cannon
Okay folks, that was actually a science-fun-moment in the White House.